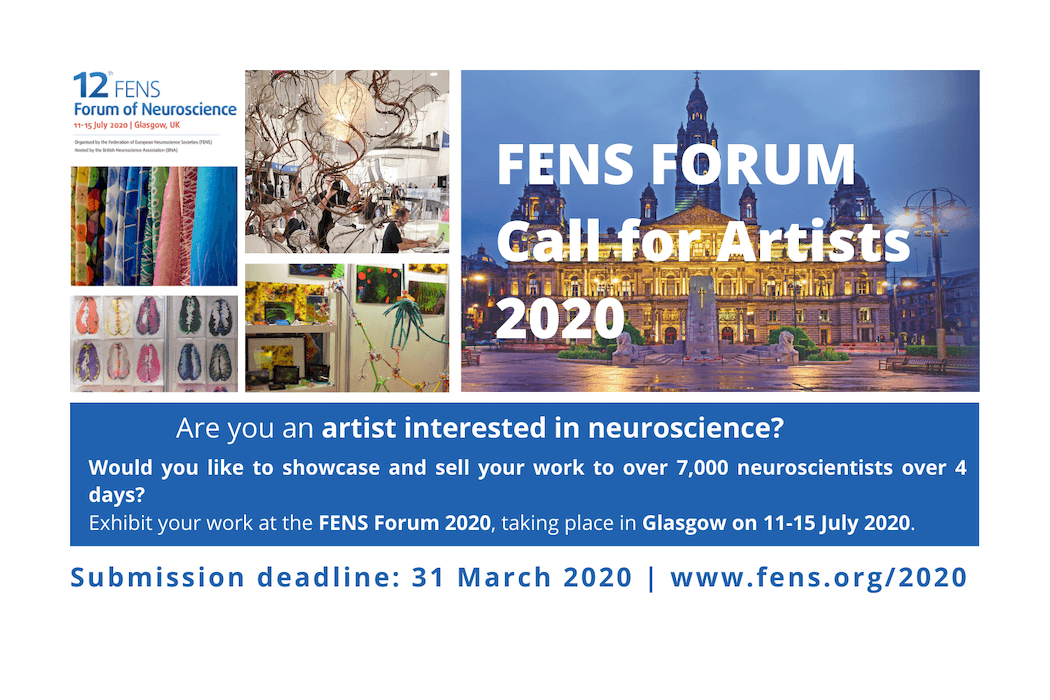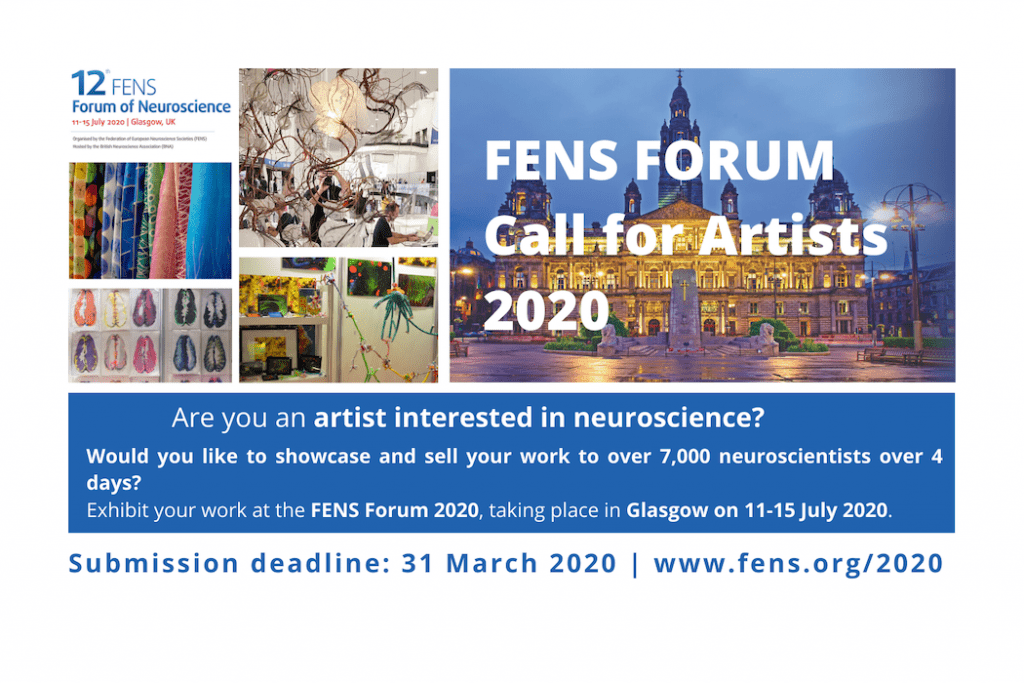 Arts in Neuroscience at FENS Forum 2020
Are you an artist with an interest in neuroscience? 
Would you like to showcase and sell your work to over 7,000 neuroscientists over 4 days?
The FENS Forum is, for the second time, offering a small number of artists, whose art explores the interface between art and neuroscience, the chance to exhibit their work at this meeting.
Taking place in Glasgow from 11-15 July 2020, this premier European meeting has an anticipated attendance of >7,000 delegates, all of whom are working on aspects of the brain, nervous system and mind.
Normally reserved exclusively for science-related exhibitors, we are offering exhibition booths with a 3-meter back wall and 1 meter deep (3m*1m) to each artist at a significantly discounted rate, providing you with the opportunity to showcase and sell your work to the delegates as well as access the scientific programme.
This year, for the first time, we are also looking for a collaboration with an artist to organise an art activity involving conference delegates or a collaborative art work. FENS would be happy to cover the costs of organising such activities, depending on the relevance of the project. This activity should take place during the Forum.
Please contact office@fens.org further information or apply via the online form below.
Application deadline March 31st 2020
Exhibition space: 3 sqm standard-size booth.
Number of booths available: 6 (TBC)
Price per booth: EUR 300
One delegate registration for the conference is included, which will allow you to attend talks.
Applications for booths must be made using the dedicated online form and relevant examples of work submitted.
Your travel and accommodation costs are not covered by FENS
Reimbursement for shipment of your material to the congress venue is not covered by FENS.
Advertising and/or sale of your products is only allowed inside your rented booth. If you wish to have more extensive advertising at the meeting (i.e. outside your booth), please contact FENS to discuss available sponsorship packages.
Due to the level of interest we cannot guarantee that all exhibitors that apply will be allocated a space. Applications will be assessed by the FENS Communication Committee and applicants will be notified of the outcome within three weeks of the application deadline.
Contact details for questions: office@fens.org